2019
August
Saturday 24th
Crownload with The Merseybeats & Holispark
The New Crown, Merthyr Tydfil
Tickets www.seetickets.com
Taking over our SATURDAY CROWNLOAD HEADLINER is none other than 60s stars THE MERSEYBEATS.
They had more major hits with, "Don't Turn Around" and "Wishin' and Hopin'. " Other successful recordings included "Last Night", "Don't Let it Happen to Us", "I Love You, Yes I Do", "I Stand Accused", "Mr. Moonlight", "Really Mystified" and "The Fortune Teller". ♥
Still fronted today by Tony Crane, the Merseybeats have toured the world and are ready to take the spotlight at the CROWNLOAD festival from 8:00, SATURDAY 24TH AUGUST.
They'll be supported by the incredible Holispark, returning from France to join our festival of great live music
September
Sunday 8th - Litchfield - Garrick Theatre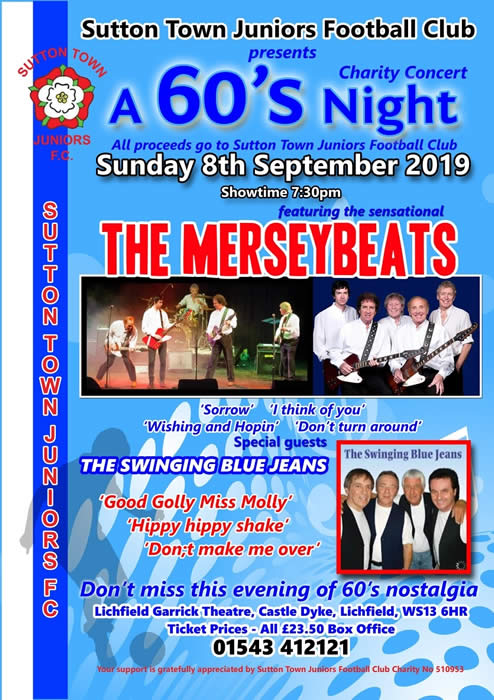 Thursday 19th - Liverpool - The Cavern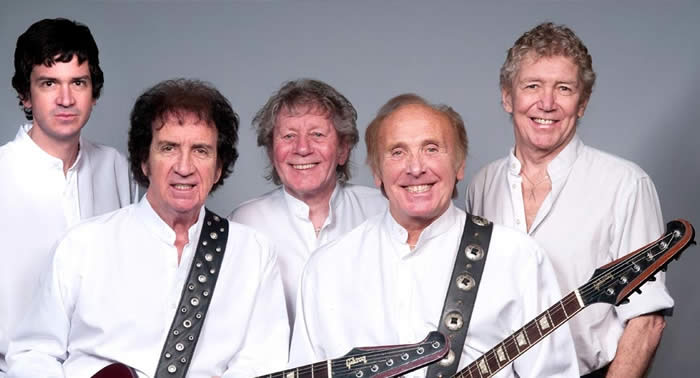 08:00 PM £20 THE CAVERN CLUB LIVE LOUNGE
THE MERSEYBEATS RETURN TO THE CAVERN TO RE-CREATE THE SHOWS THEY PERFORMED THERE IN THE 1960S!
A VERY SPECIAL ANNUAL SHOW FROM ONE OF THE ORIGINALS AT THE CAVERN CLUB. THEY STILL CONTINUE TO ENTHRAL THOUSANDS OF FANS WORLDWIDE, THEY ARE ONE OF THE MOST POPULAR AND AUTHENTIC SIXTIES BANDS STILL PERFORMING, 50 YEARS ON!
The Merseybeats emerged from the Liverpool Merseybeat scene in the early 1960s, performing at The Cavern Club along with the Beatles, Gerry and the Pacemakers and all the other great Mersey Beat bands.
Saturday 21st - Ludlow Race Course Postponed till 22nd February 2020
with MARMALADE & The SWINGING BLUE JEANS
SIXTIES GOLD TOUR
September / October / November / December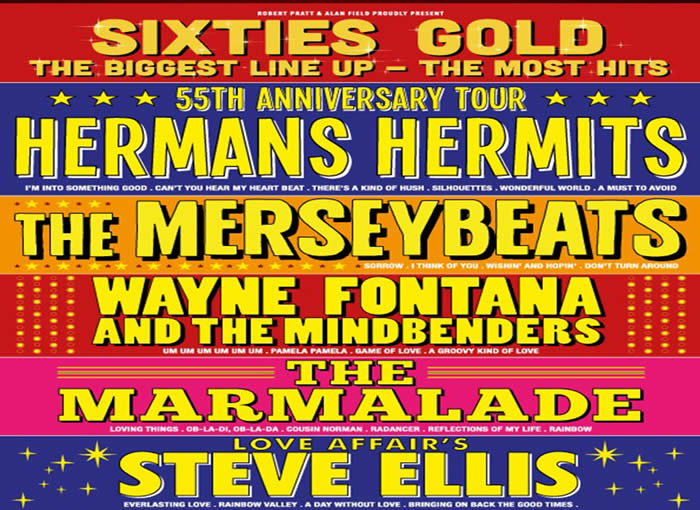 SEPTEMBER
Friday 27th Eastleigh - Concord Club
Saturday 28th Torquay - Princess Theatre
Sunday 29th Dartford - Ochard Theatre (two shows)
OCTOBER
Wednesday 2nd High Wycombe - Wycombe Swan
Friday 4th Stevenage - Stevenage Concert Hall
Saturday 5th Southend - Cliffs Pavilion
Sunday 6th St Albans - Alban Arena (two shows)
Wednesday 9th Croydon - Fairfield Hall
Thursday 10th Folkstone - Leas Cliff Hall
Wednesday 16th Swansea - The Grand
Thursday 17th Cardiff - St Davids Hall
Friday 18th Cheltenham Town Hall
Saturday 19th Cambridge - Corn Exchange
Friday 25th Weymouth - Pavillion
Saturday26th Poole - Lighthouse
Wednesday 30th Norwich - Theatre Royal
NOVEMBER
Friday 1st Leicester - De Montfort Hall
Saturday 2nd Blackpool - Opera House
Sunday 3rd Darlington - Hippodrome (two shows)
Wednesday 6th Gateshead - Sage
Thursday 7th Perth (venue TBA)
Friday 8th Aberdeen (venue TBA)
Saturday 9th Musselburgh - The Brunton (two shows)
Sunday 10th Glasgow - Concert Hall
Thurday 14th Portsmouth - The Guildhall
Friday 15th Margate - Winter Gardens
Sunday 17th Ipswich - The Regent
Wednesday 20th Hull - City Hall
Thursday 21st Chesterfield - Winding Wheel
Friday 22nd Doncaster - The Dome
Saturday 23rd Llandudno - Venue Cymru
Sunday 24th Birmingham - Symphony Hall
Tuesday 26th Eastbourne - Congress Theatre
Wednesday 27th Northampton - Royal & Derngate
Friday 29th Manchester - Bridgwater Hall
Saturday 30th Liverpool - Philharmonic Hall
DECEMBER
Sunday 15th Leeds - The Grand
2020
January
Friday 17th - Minehead - Butlins
February
Saturday 22nd - Ludlow Race Course with MARMALADE & The SWINGING BLUE JEANS
Friday 28th - Highcliffe Sports & Social Club
March
Thursday 5th - Shrewsbury - Theatre Severn with THE FORTUNES
Saturday 7th - Skegness - Butlins
Friday 13th - New Brighton - Floral Pavillion wth Union Gap UK
Sunday 15th - Brean - Unity Farm - Swinging 60s weekend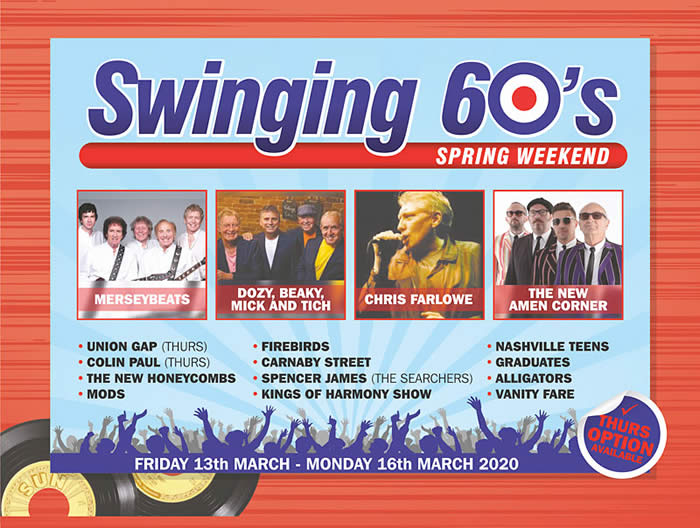 Saturday 28th - Birmingham - Yardley Ex Service Mens Club
December
Sunday 6th - Skegness - Butlins